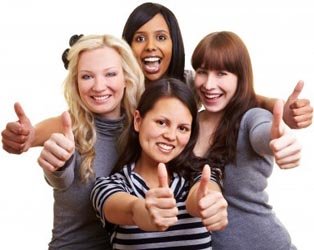 We really love how you have "showered" us with compliments!!
A BIG HEARTFELT THANKS TO ALL OF YOU!

Out of all of the websites that I have visited to try and find baby shower games, yours is by far the best. your games are creative, non traditional and just seem fun. so, i just wanted to let you know that, i think you have one of the best shower websites. April

Just wanted to say thank you! I am having a shower for my sister and you're website helped!
Great new games ideas, and activities. Thanks again. Jen

Hi! Just a quik thanks for such a great site! I have a "teen mothers support" group and am planning a baby shower for the girls Friday. A few are close to delivery date, and a couple just had babies...your site was more than helpful when trying to come up with game ideas. thanks for letting me print them for free. I'll be visiting this site in the future! sincerely, Angi - Teen Mothers Support Coordinator

Thank you for making this as easy as it was. I really liked how to just
chose the games and print them out. It was a HUGE help. Thank you

I just wanted to send you a little, but big THANK YOU! note. I am trying to plan my baby shower that I plan to have on Aug. 2nd. I was stumped when it came to games. I am only having one shower that I know of. So, I plan on a number of friends and family showing up from both sides. This is going to be an adult only mixed (age wise) type of crowd. I am so happy and pleased that I found your website. I don't want to do the typical baby shower games. I want everyone males and females both to participate. I want this to be a very memorable event. I am renting a room out at the Hampton Inn & Suits Hotel. If you have any other new suggestions about anything that has to do with a baby shower I would love to hear about them. I will be working on favors next. Thanks a bunch Irene, from California

THANK YOU SO MUCH FOR THE EXCELLENT BABY SHOWERS GAMES IDEA. THEY WERE PERRRRRRR-FECT FOR AND IDEAL BABY SHOWER. ESPECIALLY THE WORD FREE PRINT OUT FOR ALL MY GUEST TO DO. I LOVE IT. THANK YOU FROM THE BOTTOM OF MY HEART. VIVIAN

Thank you sooooooo much - I just printed out the games for my daughter's baby shower on March 1st - it is my first grandchild and I can't wait to play some of these. Thanks again. Beverly

I just wanted to thank you for providing such an in-depth and entertaining sight for moms to be. I researched online, looking for games and ideas for a baby shower, to help out my hostess and was dismayed to realize that many of them charged a fee to "offer" ideas and games. I came across your page and sought no further. Thank you again. I will refer you to everyone I know, including my three closest-and also pregnant-friends. Sincerely, Angie

Thank you for the wonderful website for great ideas for baby showers....I love the candy bar idea and the tee shirt decoration idea. Your site is the only one that I found on line that didn't pester me with pop up ads and offers to buy! THANK YOU! Carol from Keizer, OR.

Hi, my name is Michelle. I just wanted to write you and tell you that your web site is the best web site I have seen. And I've gone through a lot pertaining to these topics, like crafty stuff and party planning. I have a deep passion for both of them. So I just wanted to tell you that and that I will be sharing your web site with friends and family that also have a love for this awesome stuff. Your site has inspired me to want to do more and imagine more. So thank you, May the Lord continue to bless you with your talented creations and may he bless you with more success and happiness. God Bless.
Love Always, Michelle

What a cute idea! I was just browsing some craft sites and came across yours. Very clever! Linda

Hi just wanted to say I love your web site i am planning a shower for a mother-to-be who's husband is in Iraq and wanted to make it extra special and your web site has help me to do that thank you!!!!Lisa

You guys are AWESOME, Thank you so much. Essie

The Nubbin was a hit! Everyone loved it and wanted to know where to get one. They have your website, so keep up the cute creations!

Comment on Nubbins:
A lot of parents these days are looking for the out of the ordinary, and you can't just bop over to BabiesRUs and buy this kind of thing.
IT'S ABSOLUTELY AND UNDISPUTEDLY THE CUTEST, MOST ADORABLE THING I'VE SEEN!! I know Tanya and the shower guests will oohh and aahh over it!!

Great ideas. I am having a shower for my daughter and found your site very helpful. thank you!
Elaine

These were the sweetest and most exciting games and ideas of any site I visited. Thank you so much!

Hi Heather! Love your site! It's come in very handy for throwing my sister' baby shower! Here's a fun twist on the "Pin the Diaper on the Baby" game:
Have each guest go blindfolded, then lastly, the mom-to-be BLINDFOLDED. Right before she pins the diaper on, someone squirts her with a squirt gun (as if the baby peed)! It's a great surprise!
Thanks again! Katie Smith

I just wanted to thank you for the free "Baby Shower Games." I am having one for my sister-in-law this weekend. I was starting to freak out because I did not have this piece done yet. You saved me. Thank you so Much! Jamie P., Maryland


Hi I just wanted to let you know that your website is a lifesaver. I have a baby shower planned for a friend of mine this weekend, and with my hectic schedule I was just now able to get online and look for some ideas. Your website was the only one I had to go to and I can't wait to play the wonderful games you suggested. Thanks for making such a useful and fun site.

Hello, My name is Heather too, and I just wanted to let you know you are wonderful to post these games free of charge for anyone to read or print. I will recommend you to all my friends to visit your site, its great.

I just wanted to say that I loved your site. I got some great game ideas for my shower coming up this weekend. Thanks a bunch.


OH MY GOODNESS, Thanks you so much for the ideas and free games. I'm have my baby shower next month for 60 guest and there is no way i could have gotten the games planned and afforded to pay any extra to buy the ideas offline. This has been such a blessing thank you so much!!!! Soon a mom to be. Jessica


Thank you! I have never thrown a baby shower (or any shower for that matter) and I started to panic as the shower is in 2 days. This was by far the most helpful and articulately put together site I found all day!!!! Thanks again, I was feeling almost as nervous as my friend who is pregnant. - Merre


THANK YOU THANK YOU THANK YOU! I just got a call asking me to plan games for a baby shower which is less that 48 hours away. Thanks for the game ideas!!!


Thanks for your web site. I am able to use an idea from your site for our shower tomorrow...the Create a Name game.

I would like to share a game that we played at my shower for my baby. It was titled "Who will Baby be like???"
Each guest was given a sheet of paper with characteristics such as, eyes, hair, mouth, ears, nose, favorite sport, intelligence, and height, etc The guest were asked to write moms name or dads name next to each characteristic. I filled one out and whoever matched my answers the most won!
Thanks again for your site.
Tracey


Hi - I just found your site - Really appreciate your ideas for games and other items in
your site - Thanks - Keep up the good work. Barbara


Thank you for all the wonderful ideas for the shower! Best Wishes,Wanda


Hi your site is awesome i have been looking for games like this all week and i finally found them u rock!!!!!

I visited your site and I must congratulate you. It looks very very nice. I just love your little nubbins.

I found your website very helpful for my future mother-in-law's baby shower. Keep up the good work. Your website is great! -Sincerely, Jenn

I've researched for hours the internet for unique ideas for a baby shower. Thanks for offering so many good suggestions here. I found so many things I'm going to use!!! I wanted it to be different than every other shower I've attended and I'm sure, now, it will be! Thanks, Angela

I just wanted to tell you that I think your website is fabulous. I am helping to host a shower for a dear friend of mine =amp; the ideas that you have listed under the games were more original than any other that I have found. I like the creativeness & cleverness of your website. I am glad that I came across it & I will definitely tell my friends about it. Sincerely, Brenda


Thank you so much for taking the time to write me. My sister's daughter - in- law had a major league falling out with her best friend who is also her brother's wife. The shower is to be held in less than 2 weeks will be in a city way up in northern California and I live in Southern California. My sister called me in tears asking for my help to host the shower which is to be held at a tea shop. My jobs are to figure out games and the favors. You have given me such a great game idea and I can't thank you enough. I was frustrated with the internet and not finding anything. Thank you for helping us and God bless! Robyn


HELLO HEATHER MY NAME IS ANEKA AND I'M GIVING MY SISTER A BAY SHOWER IN MARCH. I JUST WANTED TO LET YOU KNOW THAT I HAVE BEEN LOOKING ON YOUR WEB SITE AND THE GAMES ARE GREAT!!! CONTINUE THE GREAT WORK! MAY YOU HAVE A BLESSED DAY!!!

Great website! Thank you for all the great ideas. We just found out my twin is having a baby. So of course I jump to the internet to find great ideas and =our site had the best, and most unique games. I've got 6 months to plan the shower, and with all of your ideas I'm sure it will be outstanding. Thank you so much! Julie

hi my name is sonora and i am only 11 i like your site

Just wanted to say Thank You for all the wonderful baby shower ideas!! i am helping put on a baby shower for my wonderful sister-in-law and want it to be the best. My job is the games and we are going to have fun. A lot of cute ideas on your site! Thanks again!
I am having a baby shower for my first grandchild. Kristy is due with Luke on June 13th. I have had parties in the past and was looking for some new ideas, especially for games. I really like so many of the ones you have listed such as the Poem for the centerpiece prize. Thanks for all of the wonderful ideas.Blessings! Gina
I thought I would write to let you know that I think your web site is AMAZING! i'm throwing a baby shower for a good friend of mine and I had no ideas for games. I searched for games and your site came up. After reading through the games, which I must say look great, I viewed the entire site. Your nubbins are the cutest things I've seen! Anyways, I just thought I'd let you know that the site is great and I enjoyed reading through it. Thanks for the game ideas!
Best regards, Michelle


I love your web-site!....it has so many unique ideas.......very helpful. I will be conducting a shower soon and your ideas will be all throughout! thank you so much!
Tara

I want to thank you for putting this website together to help those first timers on how to host or throw a baby shower. I have not been to any baby showers before and so I was shocked when my sister-in-laws asked me to help them throw a good baby shower for their cousins. I couldn't say NO! I didn't know what to do and I was desperately seeking for a miracle to at least give me some ideas. each of us has a duty, and mine was to do the games. Oh boy, I don't know any games at all! I immediately jumped on the computer and started searching for any ideas but none them seems to be interesting and helpful for me to understand. Until I found your website which has all the information I needed to know from favors, games to prizes. I was a little curious on what prizes I should give. Is it expensive or the cheap stuff from a 1$ store? I was thinking to buy some inexpensive stuff from Victoria secrets but I thought, this is too much. So, I am glad that I can buy things from 1$ store at all. I felt relieved because I was planning to ditch the shower and make some excuses. But I thought, this is not right and it is so stupid to do. So I am happy to tell you that you website is the best and very detailed. Thank you so much! Annie


Wow, What a quick response. Thank you! Your website is quite adorable. I really like your description of the type of person you are. It's nice to hear such wonderful dreams come true also. You seem like a wonderful person, with a wonderful family and life. I am very happy myself and I wish that alot of other people could experience such kindness and love. God Bless and keep up the good work. And I have say, your husband sure knows his way around a website, It was clear and easy to navigate.
Take care, Joyce C

I wanted to tell you real quick. The nubbin I made my friend ,she loved it. She thought that was a cute idea.
Thanks for your help in making it worthwhile. Amy

Thanks ,So much for having this on the Internet,for I could not find a store with any books with games, We are giving a girl at work a shower and time is short.

Heather thank you so much on the baby shower games! The baby shower was today for a friend of mine and we had no games, and I did a google search and found your web site thank you, you saved the day!

I am planning a shower for a friend and just wanted to say that you have some GREAT ideas on your site. Thanks!
Thanks for such an awesome site. I am trying to help a friend get games together for a shower.........your is the only site a person would ever need.
Keep up the good work. thanks,Kim

You have the best site by far for baby shower games! Thank you!!
I love your Nubbin idea! Thank you for having this website.

Awesome ideas!!! Just wanted to thank you!
Angel Skelton


Really enjoyed your website. A big help planning my daughter's baby shower. Thanks. Lynda


Thank you so much Heather for all your great ideas, this was very thoughtful of you. This helped me w/ planning a baby shower so much.


I just wanted to take the time to thank you for having your website available!! It's so nice to able to come to and find games for my dtr's shower without more expense. Thank you again!



Hey my name is Brandy, and i just wanted to let you know that your website has helped me out some much. I have been looking for some baby shower games to have at my sister-in-laws baby shower and i have not been able to find any fun ones until i found your site. I love the left right game. thanks so very much


I needed some Baby Shower Games for a Ladies Ministry Baby Shower we are giving our Pastor's wife on Monday night.I went in on your site and found some wonderful games.I believe the ladies will enjoy these games.Thank you so much for all your work in putting this page together for all of us. Sincerely, Shirley


YOU ARE THE BEST! Thanks for your ideas.

I think all these games and ideas are really very cute


These game and shower decorating ideas are awesome!!! My daughter and I are starting up a part time business of planning/putting on Baby and Wedding Showers in our local area. We have done several over the years for family and friends and have several times been told we should go into that business and so we are going to try it.
Wish us luck. Kathy


I just wanted to say thank you so much for your website it has been extremely helpful. I am expecting in June and I know that my mother is throwing me a baby shower. I don't know when it is going to be but I am aware that there is going to be a lot of people there. She has her hands full with the food and decorations so she has left me in charge of picking out the centerpieces and favors, along with picking out the games. And out of all the sites that I have looked at yours is the best.

Thank you
Donnajean


Hello my name is Shannon. I found your web-site and used some of your games at my baby shower!!! We had so much fun with them...I would like to say thank you for making my baby shower and very special one!!!! Trust me they all were worth it and made everyone really happy! Thanks again!

I am throwing my daughter a baby shower next month and I have never done this before. I have looked up tons of websites these last couple of weeks and none compare to yours !! I designed my entire party from your site. Keep up the great work ! Thanks a million,God Bless.Deann


Great site. I've done many baby showers but this one is for my sister, so you know it has to be special. Your site has given me wonderful ideas to give the best sister in the world the most memorable shower ever. my best to you!


THANK YOU, THANK YOU, THANK YOU; YOUR WEB SITE WAS A GREAT HELP!!! THANK YOU SO VERY MUCH.


This is a great website, with some excellent ideas. My sister's shower is today and you gave us some great ideas to share at the shower. Thank you, Dorene

heather..i really enjoyed your web site and i got some amazing ideas. your a life saver.. thanx..nicole


Thanks for all the ideas!!! I have 2 pregnant daughters, my 1st 2 Grandchildren. The other sites I went to, I had to purchase their game ideas. I had a few of my own, but really liked some of yours that I have never even heard of. We are going to use a few of your ideas, thanks so much. Lisa